---
XTREMEKIDS WORSHIP TIMES
Sundays 9:00am & 10:45am
Wednesdays 6:30pm
---
FIRST TIME VISITORS
Puyallup Nazarene Church has multiple check-in stations staffed with volunteers who will assist you through the sign-in process. You will be asked to fill out an XtremeKids Information Card which includes basic contact information as well as any allergies or special needs related to your child.
---
CHECK-IN
As an additional safety measure, each check-in station will generate a random alphanumeric code for your child. Please place the name-tag sticker on your child and keep the pick-up receipt with you. You will be asked for this receipt upon pick-up. This helps to ensure your child is being picked up by an authorized person.
*Check-in stations are open 20 minutes before each service and close 20 minutes after each service*
---
SAFETY
All XtremeKids volunteers and staff members must go through a thorough application process, background check and MinistrySafe (sexual abuse awareness) training.
We are committed to providing appropriately staffed adult per child ratios in all our spaces according to childcare licensing standards in the State of Washington.
PNC policy does not permit any volunteer or staff member to assist with any restroom needs. If assistance is required, a parent or guardian will be paged. Diapers are only changed on an as needed basis for our birth through 24-month-old children.
---
EVENTS
XtremeEdge – Preteen Students 4th-6th grade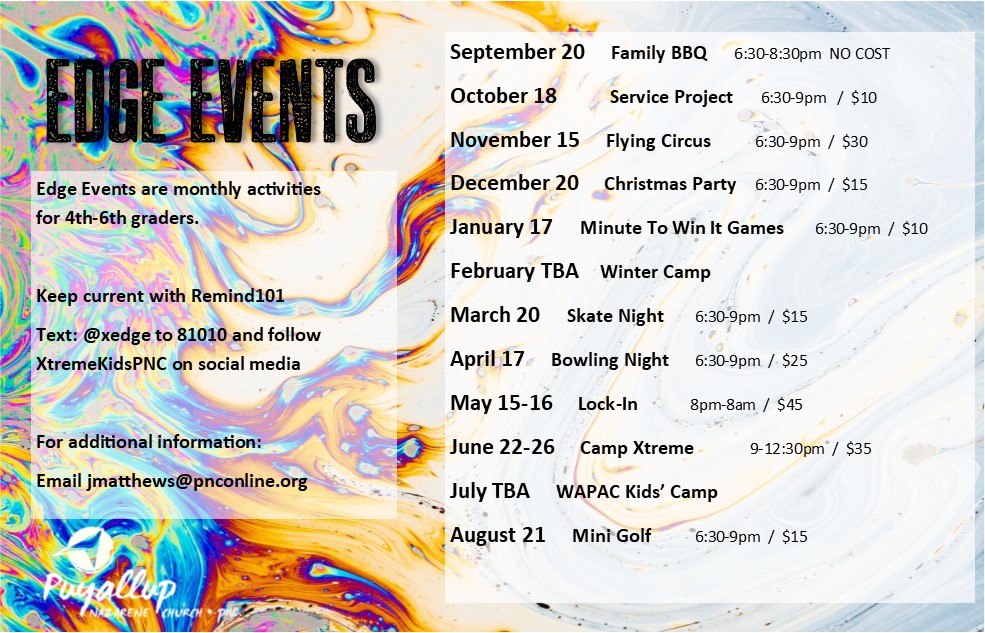 Preteen students come be a part of our monthly Friday night gatherings. With a variety of on-campus and off-campus events you will not want to miss the time of hanging out with friends and having fun. Most Edge Events take place on the third Friday of each month. Click HERE to check out the calendar and to sign up for this months event.