Update: July 16th, 2020
HERE'S WHAT SERVICES WILL BE LIKE
Our smaller services will include a welcoming community, worship, and a message. We have created space outside under the Portico for fellowship before and after services. Make sure to bring your own coffee! The Commons will not be open.
Services will be held in our Sanctuary. We will all be entering and exiting through the main entrance. We will be using every other pew to promote appropriate social distancing. Our greeters will assist you in finding the best place for the members of your household to sit together. We ask that in accordance with state and CDC recommendations, you wear a mask covering your nose and mouth for the entire time you are on campus. Full face shields can be a great alternative for those who have a hard time breathing while wearing a mask. In an abundant interest of safety for all, we will also be inviting you to have your temperature taken as you enter the building. Hand washing and sanitizing stations will be available throughout the building.
We do ask that everyone monitor their health before coming to church. If you have a temperature of over 99, other COVID-19 symptoms, or have someone in your household with COVID-19 or symptoms, please worship from home with our online services until you have been well for two weeks.
TYPES OF SERVICES

ONLINE SERVICES
There are some who are not ready to be back in public yet and we respect that. We will continue with our online services. You are still an important part of our church and we want you to feel welcome to service, even from home.
ON-SITE SERVICES
While the decision of whether to come to church is really your own, we are committed to making the services as safe as possible. We will be having three on-site services - Saturday, 6:00pm, Sunday, 9:00am and Sunday, 10:45am.
REGISTER FOR SERVICES HERE
We feel each of our services are equally safe because of the social distancing respect and care you are showing. We are now designating all three of our services as open to all and want to welcome you to the service that works best for you and your household.
In compliance with CDC guidelines, we are asking that every person over the age of two years wear a cloth face covering over their nose and mouth for the entire time you are on campus. If you do not have a face covering, we will have one available for you.
SAFETY PLAN
Health
Keeping our community healthy is of the utmost importance. We are asking that anyone who has experienced illness, including a fever of over 100.4, who has had COVID-19 symptoms, or been in contact with someone with COVID-19 not attend service. Forehead temperatures will also be taken for all staff and volunteers present at the service.
Protective Gear
In compliance with CDC guidelines, we are asking that every person over the age of two years wear a cloth face covering. If you do not have one, we will have them available in service. We understand that it may be inappropriate for some individuals with select health issues to wear face coverings.
Social Distancing
While on the church campus, all attendees will be expected to adhere to social distancing guidelines. We have closed every other pew in the Sanctuary and have carefully arranged any other furniture to create comfortable distance for all in attendance.
Restrooms
Our restrooms will be open before, during and after services. Per CDC guidelines, we are limiting each restroom to two people at a time. Ladies will enter their restroom at the door nearest The Commons and exit at the door nearest the back door and water fountain.
Sanitation
We are working to make the service as touch free as possible. Doors will be propped open, hand sanitizer stations will be positioned around the building, and tissues and trashcans will be readily available for your use. Staff and selected volunteers will be properly disinfecting all high touch surfaces after every service anti-viral sprays or wipes.
Cleaning Team
Our staff is creating a team specifically for cleaning before, during, and after services. Midweek, we will be continuing to practice deep cleaning, including all high touch surfaces such as work areas, seating, handrails, doorknobs and restrooms.
Signage
There will be specified entrances for each service, in-doors and out-doors for our entry, sanctuary and restrooms. Safety measures are posted throughout the building. Paying special attention to posted signs will make the process as smooth as possible! Our Guest Services will also be available for assistance.
CDC Guidelines
All our measures are seeking to comply with the CDC guidelines, which change regularly. We will update our procedures as those guidelines change. Thank you for your patience as we work to remain in compliance while providing you with an excellent worship experience.
Exposure
If we subsequently learn of anyone in the building experiencing COVID-19 symptoms or having been exposed to anyone with a confirmed case COVID-19, we will be notifying those in attendance to any affected service.
COMMON QUESTIONS
I have kids. What will church be like for them?
We're so glad you're bringing your kids! Though we cannot offer our traditional kids' programs or the nursery at this time, we are excited to see them here. For now, we invite you to bring something to occupy children that are not accustomed to worship in the main sanctuary.
Will people be wearing face masks?
In compliance with CDC guidelines, we are asking that every person over the age of two years wear a cloth face covering over their nose and mouth. If you do not have one, we will have them available for you. We understand that it may be inappropriate for some individuals with select health issues to wear face coverings.
What other measures are being taken to help keep us safe?
In addition to hand washing in our restrooms, we will have several hand sanitizer stations throughout the gathering areas. You will also have clear access to tissues and trash cans, for your convenience.
Will I be expected to shake hands with people?
We will be entering into a no-touch service. In fact, part of social distancing requirements is that we do not touch anyone during service. And for a church of hand shakers and huggers like us, this will be a change! We'll all be doing our best to respect the guidelines and find new ways to greet each other.
How am I supposed to know what to do? Everything has changed. Will it be awkward?
Everything is awkward these days! But we'll do our best to make things easy for you. Pay special attention to posted signs and other traffic guidance, as they will help you navigate new guidelines. Please plan to have everyone in your household seated together and at the same time. Our Guest Services team is excited to be here to assist as well.
Will I be able to talk to people after church?
Spending time with others is some of the most special times we get at church. On Sundays, you will be able to greet each other under the Portico, outside the front of the building.
How will I know that there are only 125 people at each service?
For this season we are asking each family to reserve online for their preferred service time. This will allow each family the freedom to choose what works best for them, while also ensuring we are staying at our maximum allowable number of people.
If there are already 125 people in the service, will I be turned away at the door?
Short answer: we will do our best to not turn people away. We have added the third service to help make church more accessible to everyone. Having a limited number of people per service is brand new to us, so we are figuring some things out as we go. Please try to reserve your space in advance if you can.
What if you find out later that someone in service was directly exposed to COVID-19?
We are doing everything we can to avoid exposure to COVID-19, and hope that we do not have this happen. If we are made aware of a confirmed case, we will notify you using the same communication channels we use for other information and events.
I have questions that weren't listed here. Where can I go for more information?
The following links provide further information for you:
About Coronavirus and Transmission Prevention:
Approved Disinfectants for Cleaning:
More detailed version of PNC's Procedures, Safety Plan, & Exposure Control, Mitigation and Recovery Plan: Click Here
Update: June 4th, 2020

Dear PNC Congregation,
On Friday, May 22, President Trump issued a statement declaring churches as essential services and declared they should begin regathering as soon as possible. We appreciate the regard for religious freedom and affirmation of the vital role that churches play in our society. However, that does not mean that every congregation is prepared to do so safely and responsibly.
Because we believe it is a matter of witness and our mission to bring the love of God to everyone, we (PNC) envision a reentry plan that follows our governor's phasing template, CDC guidance and the Washington Pacific District of Nazarene churches. This means that the actual reassembling for regular Sunday services will happen around the time we are allowed into Phase 4. Based on the guidelines we have seen, we know that our gathered times will look and feel different when we return. To help us in our planning, please complete the survey we've made available at: https://form.jotform.com/201445381812046. There is space at the bottom if you would like to leave a message for the staff. Thank you for your continued support of PNC and we look forward to seeing you in person as soon as we can safely do so.
In the preparations and the execution of our regathering strategy, we find it especially important to follow the heart and impact of St. Paul's guidance to the Galatian church:
It is absolutely clear that God has called you to a free life. Just make sure that you don't use this freedom as an excuse to do whatever you want to do and destroy your freedom. Rather, use your freedom to serve one another in love; that's how freedom grows. For everything we know about God's Word is summed up in a single sentence: Love others as you love yourself. That's an act of true freedom. The Message in Galatians 5.13-15
During these days of questions, varying answers, increased polarization and divisiveness, it becomes our primary concern to live in a manner that witnesses to the love and power of Jesus Christ. As we move in this season Pentecost and the outpouring of the Holy Spirit, it is imperative that we "maintain the unity of the Spirit in the bond of peace" within the Christian community, the Church. In this way we can introduce God's peace authentically to the larger community. This is an uncommon opportunity to display the love, generosity and kindness of God to the watching world.
These are days of pandemic stress and racial pain. Let's keep praying. Let's keep showing compassion. Let's live in the awareness of the presence of God with us. Let's talk up Jesus in these days. Let's live in hope because the Holy Spirit is at work in us, through us and throughout the world. Our patient endurance will yield a pure and untarnished joy when we are able to gather again for worship.
God is up to good!
Pastor Dave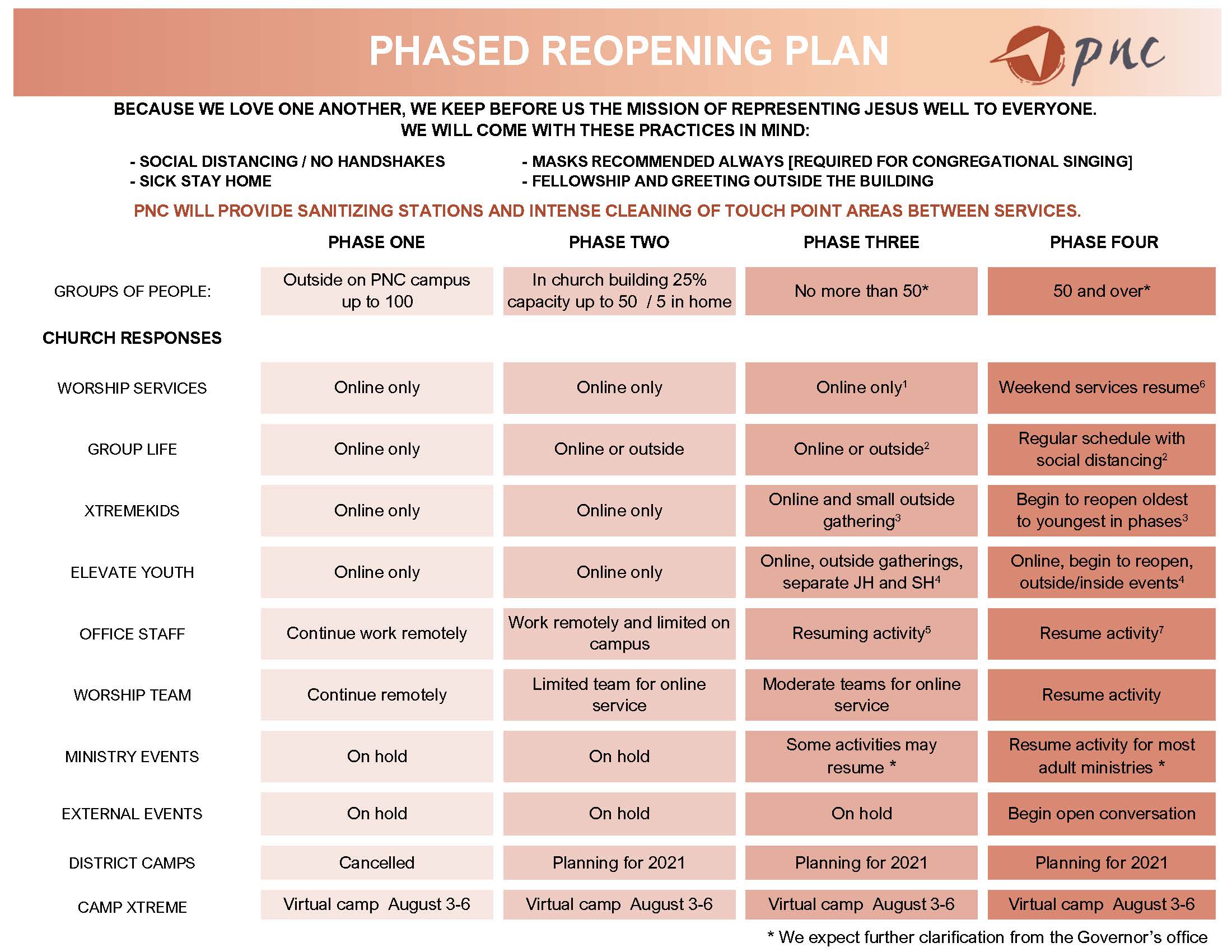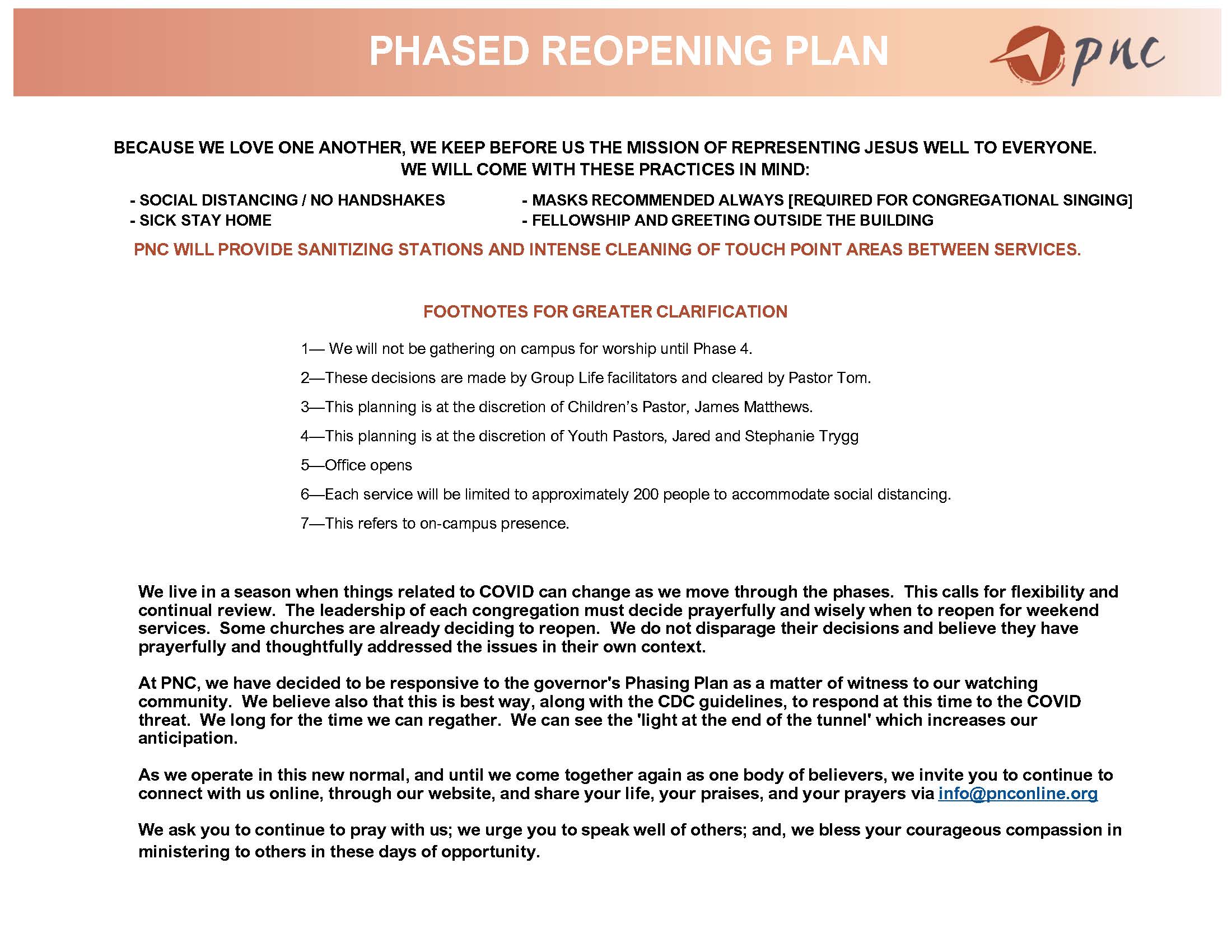 Update: March 26th, 2020
In cooperation with the Governor's call to "Stay Home, Stay Healthy," the church campus will be closed and staff will be working remotely until further notice. The governor requires this for 14 days (to April 9) and has indicated that it could go longer. We are planning on installing a drop slot for mail and giving early next week. We also encourage you to sign up for Pushpay or mail your financial gifts to PNC (1026 7th Ave SW, Puyallup, WA 98371). Thank you so much for your continued support.
Living Hopefully!
These days call for staying connected with one another and caring for those around us who have need. Thank you for all you are doing to help one another and your neighbors during these challenging days!
If you know of people who need resources of food and financial help during these days, including yourself, please contact Sheryl Ice at , or primarily financial help, contact Mike Boisture at .

If you want to be connected with others in a Group Life Community, please contact Tere Babcock at .

If you have prayer requests, please fill out the Prayer Request form on https://puyallupnazarene.online.church.
The pastoral staff will continue to pray for your requests weekly!
A word from Pastor Dave
"In the days of disruption and challenge we are so blessed to belong to Christ, to connect with one another and to extend Christ's loving concern for all those around us. Thank you for praying for the entire PNC family and for the many people who are in our spheres of influence. Join me in living hopefully and faithfully as followers of Jesus. Every prayer, every act of kindness and every effort toward maintaining the unity of the Spirit matter greatly. Thank you!"
Original Statement
Dear PNC Family,
Most of us have been well aware of the developing and fluid situation with COVID-19. It is not a time to yield to fear, but it is a time to be vigilant in regard to the situation in our county and region. Following the recommendations of the Health Department and the Governor on Wednesday morning (March 11, 10:15am) we have reviewed PNC's weekend services and weekday events. As we met to discuss, pray and decide, there was no indication of any fear driving our decisions.
We have decided to cancel our Sunday services because we are in excess of the mandated 250 person limit. We will stream our services on Sundays at 9am and 10:45am. You can join us online at our website (pnconline.org), Facebook page and Puyallup Nazarene YouTube channel.


We encourage you to host church in your homes. We encourage also the Group Life Communities to continue to meet and encourage. Let's be the church: Worship, hear the Word, fellowship, pray and care for one another. Per the Governor's address, this would be the case through Mar 31 pending any further mandates.
Activities outside of regular Sunday worship service during the week will continue. Since the situation is fluid, we will be monitoring this on a daily basis.
We believe it is a good witness to our community to cooperate in lowering the risk to our church's most vulnerable. This means we are participating in the effort to 'flatten the curve' of the virus so that our hospitals and health professionals are not further overwhelmed. And, while living free from fear, we are being respectful of experts who have urged us to take seriously this global pandemic now upon us.
But on a greater scale, we believe it is also an unprecedented opportunity to be the church of Jesus; to care for one another, to check on our neighbors and become demonstrations of Christ's compassion and hope.
We will be communicating with you often. The work of ministry continues as our staff and leaders help all of us care for one another. During our 21-Day All Church Fast, let's pray: that the virus will be halted, that vaccines will be developed, that there will be more spiritual conversations and response to the Gospel of Jesus.
Peace overcoming fear through Jesus Christ!


David Rodes, Lead Pastor
The PNC Pastoral Team
PNC Board